Address:
Robertshaw's Farm Shop
Keelham Hall Farm, Thornton
Bradford, BD13 3SS
Telephone: 01274 833472
Email: help@robertshawsfarmshop.co.uk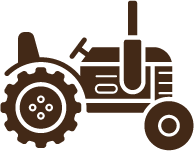 Monday to Friday 8am to 8pm
Saturday 8am to 8pm
Sunday 9am to 6pm
Monday to Friday 9am to 6pm (seasonal)
Saturday 9am to 6pm (seasonal)
Sunday 9am to 6pm
Monday to Thursday 7.30am to 3.30pm
Friday to Saturday 8am to 4.30pm
Sunday 8am to 3.30pm
Join the Robertshaw's Family and come and work with us.
Are you a foodie, do you have fantastic customer service skils and like the idea of working on a farm?
Are you passionate about where your food comes from and how it's made?
Join our hardworking team and deliver this to every customer that visits Robertshaw's Farm Shop.
Perks of the job:
You get a great team discount

There's plenty of free team parking

You get to work with an amazing team and join the family

Get involved with community events

Free anonymous employee assistance program

Contribu

tory pension scheme

Get involved with whats happening on the farm- one of the best perks is feeding the new born lambs!